As Oman's preferred Tours, Leisure, Travel and Freight Management consortium, National Travel & Tourism (NTT) offers a unique one-stop total solution providing capability. In line with IATA guidelines, effective beginning 2010, IATA accreditation has been obtained for National Tours, Travel & Cargo LLC for retail operations and Travel Management Services. The winning corporate philosophy "Leadership through Excellence" is a hallmark of one of Oman's most professional business houses.
At NTT a motivated team backed by professional management and system infrastructure has been providing high levels of service delivery and response for more than three decades.
Winner of major awards from airlines, accommodation consolidators, cruise liners, etc., NTT remains Oman's favourite Tours, Travel & Cargo house.
While demonstrating an aggressive growth profile in terms of market image and business share, the company has consistently responded to emerging opportunities by diversifying into cargo and freight operations in the early 1990s and soon thereafter commencing its Destination Management (Incoming) division.
Your complete travel solution ...
Business Travel Solutions
Freight Management Services
Car Rental Solutions with Hertz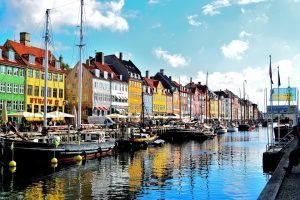 OMR 1032.000
Itinerary
Inclusions / Exclusions
Submit Request
Itinerary
(In Copenhagen/ Out Helsinki)
Day 1: Begin Your Tour • Arrive Into Copenhagen • Visit Tivoli Gardens
Welcome to your 'Cox & Kings Scandinavian Delight' tour! Afterimmigration and
customs and transfer to your hotel at own (check-in after 1400hrs). Visit Tivoli
Gardens located in the heart of the city. Enjoy various amusement rides, flower belts
and twinkling lights. Copenhagen is full of bakeries and patisseries. While on tour, enjoy
a typical Danish cake based on whipped cream made by a baker serving the Royal
Family with a cup of coffee.
(D)
Day 2: Onto Oslo • Guided highlight city tour of Copenhagen • Visit Rosenborg
Castle • Overnight Cruise to Oslo
Your guided highlight city tour of Copenhagen begins with a visit to Rosenborg
Castle. The Rosenborg Castle Garden is the country's oldest royal garden and was
embellished in the Renaissance style by Christian IV in the 16th century. Continue your
city tour driving past the Renaissance Stock Exchange, Danish Parliament and the
famous statue of the Little Mermaid. This statue was unveiled at Langelinje in 1913, as
part of a general trend in Copenhagen in those days, selecting classical and historical
figures to be used as decorations in the city's parks and public areas, followed by a view
of the Christiansborg Palace, the seat of the Danish Parliament, the Danish Prime
Minister's Office and the Danish Supreme Court. In the evening, board your overnight
cruise to Oslo and enjoy a continental dinner.
(B, L, D)
Day 3: In Oslo • Guided highlight city tour • Visit to Kon-Tiki Museum • Visit to
Viking ShipMuseum• Visit Ice Bar
Upon arrival into Oslo, embark on a guided highlight city tour. Visit the world famous
Vigeland Sculpture Park – the focus point of this park is the monolith that represents all
of humanity which stands in the middle of the park and is carved from one single
granite block. It is 17.3 meters high and all 121 human figures are carved from one
piece of stone, depicting the cycle of life. Next, view the Holmenkollen Ski Jump, 14th
Century Akershus Castle, the Broadcasting House. Continue with a visit to the Kon-Tiki
Museum, which houses original boats and exhibits from Thor Heyerdahl's world
famous expeditions. The museum is home to permanent exhibitions about: Ra, Tigris,
Fatu-Hiva, Kon-Tiki. Then, visit the Viking Ship Museum where main attractions are
the Oseberg ship, Gokstad ship and Tune ship. Additionally, the Viking Age display
includes sledges, beds, a horse cart, wood carving, tent components, buckets and other
grave goods. Many fully or nearly fully intact Viking ships are on display. Its most
famous ship is the completely whole Oseberg ship.
Next, enjoy a drink in Ice Bar. Everything except the liquids in the drinks is made of ice,
and the temperature is kept at a constant 23 degrees Fahrenheit.
(B,L,D)
Day 4: Onto Kinsarvik • Photostop at Voringfoss waterfall
This morning, drive via Hønefoss along the charming Halling Valley to the tourist resort
town of Geilo. Cross the wild Hardanger Mountain Plateau to Fossli, stopping to view the
thundering Vøringsfoss Waterfall, the highest in Norway. Descend the amazing Måbødal
Canyon to the idyllic Hardanger Fjord. Cross the fjord on the newly opened bridge
Hardanger Bridge and drive along the fjord to the picturesque village of Kinsarvik.
Enjoy a local dinner tonight.
(B,L,D)
Day 5: Onto Bergen• Photostop at Hardanger Bridge • Guided Highlight City Tour
of Bergen • Visit Mt. Flᴓien
Today, drive via the beautiful Hardanger Fjord, famous for its many fruit orchards to
Bergen. Enroute enjoy a photostop at Hardanger bridge. On arrival, embark on a
guided highlight city tour. Visit the popular Fish and Flower Market, the famous
Bryggen Harbour and the old Hanseatic Quarter. Ride the funicular to Mt. Fløien, for
sweeping views of the city and fjords below. Check into your hotel after dinner. (B,L, D)
Day 6: Onto Fagernes/Gjovik/Hammar • Norway In A Nutshell • Photostop at
Borgund Stave Church
Today, get ready to travel on one of Norway's most spectacular trips 'Norway In A
Nutshell', a combination of train rides and impressive trips by boat and bus. Early in the
morning enjoy a bus trip to Voss to embark on a scenic train ride to Myrdal. From
Myrdal, embark on a train journey to Flåm, a masterpiece of engineering set in wild and
wonderful scenery. Feast your eyes on the ever-changing panorama of huge mountains
and thundering waterfalls as the train glides through tunnels and open stretches on its
way down to wild Flam valley. Wander around the idyllic countryside of Flåm, before
embarking on an enchanting boat ride through the spectacular fjords to Gudvangen.
Upon arrival in Gudvangen board your coach as you travel through the impressive
Norwegian landscape to Fagernes/Gjovik/Hammar. En route, stop at the stave church
of Borgund. Check into your hotel after dinner.
(B,L,D)
Day 7: Onto Karlstad • Visit Lillehammar
This morning, enjoy the amazing views of the popular tourist town of Lillehammar.
The journey continues alongside Lake Mjøsa, the largest lake in Norway. Karlstad is
situated between the cities of Stockholm and Oslo. Lying on the northern shores of Lake
Vanern, this town is bisected by the Klaralven River and provides visitors with an
opportunity to completely soak in its splendid beauty. Check into your hotel after dinner.
(B,L,D)
Day 8: Onto Stockholm • Guided Tour of Drottningholm Palace • Visit Skansen Open Air Museum
This morning, start your journey through a landscape of forests and lakes to reach the
Swedish capital, Stockholm. On arrival, explore the World Heritage site of
Drottningholm Palace with a local Guide. A former royal summer residence, today is
the home of the Royal family. It is Sweden's best preserved royal palace constructed in
the seventeenth century.
Next is visit to Skansen Open Air Museum. This is the world's first open-air museum.
See a miniature historical Sweden reflected in the 5 centuries of Swedish history
depicted by the people dressed in traditional costumes as well as their dwellings. Also
see both domestic and wild Nordic animals like bears, wolves and lynx.
Check into your hotel after dinner.
(B,L,D)
Day 9: Onto Helsinki • Guided Highlight City Tour of Stockholm • Visit City Hall • Visit VasaMuseum• Overnight Cruise
Today, proceed on a guided highlight city tour, including the Royal Palace, the
Cathedral, and the Royal Theater. Visit the enchanting Old Town (Gamla Stan) with its
narrow cobblestone streets and numerous antique shops. The highlight of the tour is a
visit to City Hall with its famous Blue and Golden Halls, where the Nobel Prize banquet
is held and the famous Vasa Museum , the museum which displays the only almost
fully intact 17th century ship that has ever been salvaged.
Transfer to the pier in the afternoon to board your overnight cruise to Helsinki. Enjoy
dinner onboard with your choice of entertainment, bars, shops or casino.
(B,L,D)
Day 10: In Helsinki • Guided Highlight City Tour of Helsinki
Upon arrival into Helsinki, embark on a guided highlight city tour of Helsinki which
includes modern Finlandia Hall, the leading congress, event and entertainment venue in
Finland; Sibelius Monument – dedicated to the Finnish Composer, Jean Sibelius,
consisting of a series of more than 600 hollow steel pipes welded together in a wavelike
pattern; Helsinki Cathedral – the impressive green-domed Lutheran Cathedral
which dominates Senate Square and the Helsinki skyline; the unique Rock Church – a
thrilling work of modern architecture, built entirely underground with a ceiling made of
copper wire; and the Market Square bustling with activities with vendors selling fresh
food and souvenirs. Some free time to shop.
Check into your hotel and dinner.
(B,L,D)
Day 11: Homeward Bound
Good times need never end! As you get ready for the airport and your flight back home,
relive the high points of your 'Cox & Kings Scandinavian Delight' tour. We are
confident you will join us again, sometime soon…
Contact Us :
Land line : 24660372/ 24660366
Email : holidays@nttoman.com
Inclusions / Exclusions
WHAT YOUR TOUR PRICE INCLUDES
1) Accommodation at the hotels mentioned or similar.
2) Services of Cox & Kings Tour Manager or Local Representative.
3) Meals, coach transfers, entrance fees, excursions, sightseeing and surface transportation as mentioned in the itinerary.
4) Compulsory Tips of EUR 3 per person per day.
5) Service of Tour Manager
WHAT YOUR TOUR PRICE DOES NOT INCLUDE
1) Any Airfare / Visa Charges and Insurance /Medical.
2) Optional & Add-on Excursions unless mentioned otherwise.
3) Hotel surcharges (if applicable) during high / festive season to be paid extra per person.
4) Porterage at hotels, apartment, airports, seaports, tips, laundry, wines, mineral water, telephone charges, all items of personal nature and also food & drinks not forming part of the touring group's menu.
5) Anything not specifically mentioned in "What Your Tour Price Includes" box.
VISA REQUIREMENT – You must be in possession of Schengen Multiple Entry visa
Submit Request
Highlights of this Package:
From OMR 1032.000 Per Person on Double / Triple Sharing Basis
Scandinavian Delight
YOUR SIGHTSEEING INCLUDES:
• Copenhagen – Tivoli Gardens, Rosenborg Castle, Stock Exchange, Parliament, LittleMermaid Statue,Christiansborg Palace, Prime Minister's Office, Supreme Court
• Oslo – Holmenkollen Ski Jump, Akershus Castle, Vigeland Sculpture Park, Kon-Tiki Museum, Viking Ship Museum, Ice bar
• Fjord region – Voringfoss waterfall, Hardanger Bridge, Borgund Stave church Lillehammer, Lake Mjosa, Karlstad
• Bergen – Fish and Flower Market, Bryggen Harbour, Hanseatic Quarter, Funicular Ride at Mt Floein, Norway In A Nutshell
• Stockholm – DrottningholmPalace, City Hall, Royal Palace, Cathedral, Royal Theatre, Old Town, Vasa Ship Museum, Skansen Open Air Museum
• Helsinki – Finlandia Hall, Sibelius Monument, Temppeliaukio Lutheran Cathedral, Market Square
MEALS
Enjoy sumptuous Indian / Continental vegetarian and non-vegetarian cuisine.
Departure Dates
April 2018 – 22,29
May 2018 – 06,13,20,27
June 2018 – 03,10,17,24
July 2018 – 15,29
August 2018 – 12,26
September 2018 – 09,23
Contact Us :
Land line : 24660372/ 24660366
Email : holidays@nttoman.com
More special offers …
GENERAL TERMS & CONDITIONS
THE PRICES ARE INDICATIVE AND SUBJECT TO FINAL CONFIRMATIONS.
PASSPORT TO BE VALID BEYOND 6 MONTHS OF PERIOD OF STAY.
CHECK-IN AT THE HOTELS 1400 HOURS AND CHECK-OUT 1200 HOURS.
SALES / TRAVEL / CANCELLATION CONDITIONS APPLY-KINDLY CHECK AT THE TIME OF BOOKING.
Package confirmed is subject to Booking Conditions / Cancellation policies as applied by Service Providers. Partially unutilized tickets are non-refundable. It is recommended that you take your travel insurance to cover you during your travel, medical expenses in case of an accident / illness, loss of baggage/personal effects, loss of ticket, change of ticket reservation and cancellation of the tour. It is the responsibility of passengers to ensure that their passports and visas are valid for travel. Kindly contact the relevant Embassy or Consulate for same.