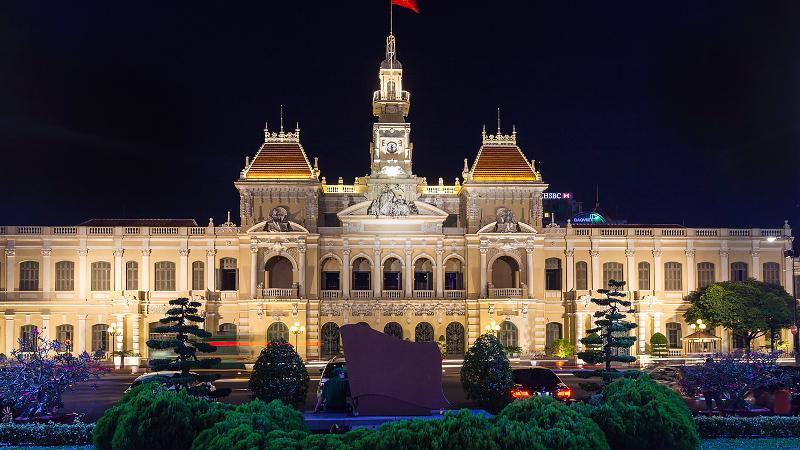 ULTIMATE VIETNAM-14 DAYS / 13 Nights
DAY 1 | ARRIVAL HANOI
Today you are welcome to arrive in Hanoi at any time. On arrival, your English-speaking guide will meet you as you exit the arrivals area at Hanoi airport for the transfer to your hotel.
DAY 2 | HANOI (B, L)
An early start this morning to bring you a unique and magical insight into Vietnam's people on a "Good Morning Hanoi" tour. Hanoi'ites begin their day early with many taking part in exercise around the picturesque Hoan Kiem Lake. Your walking tour visits the lake where you will see residents enjoying Tai Chi, exercise and meditation. You'll get to see the inner city old quarter as its narrow streets begin to fill up with the bikes and people of Hanoi as their day starts-a fascinating look at two sides of the city and daily life. We then return to the hotel for breakfast and to freshen up. Then it's on to visit the city main historical sites including a photo stop outside Ho Chi Minh Mausoleum and a visit to Ho Chi Minh's house, where he preferred to live simply, which are splendid reminders of the great man who once led this country. Our last stop is to the Women's Museum for an insight into the cultural beliefs of Vietnam including the role women play in Vietnam's culture and its history and the traditional costumes of different ethnic communities.
We stop for lunch at KOTO-an opportunity for us to support a fantastic organisation. KOTO is a notfor-profit restaurant and vocational training program that is changing the lives of street and disadvantaged youth in Vietnam.
Late afternoon and evening is at leisure-you may wish to visit the Temple of Literature (opposite KOTO) or simply explore Hanoi's narrow streets and the fascinating old quarter-we recommend seeing the Water Puppet Theatre (not included)-a colourful form of traditional entertainment. Your guide can assist you with directions.
DAY 3 | HANOI - MAICHAU (B, L, D)
Today a wonderful part of your tour filled with stunning countryside and traditional communities as we head to Mai Chau. From Hanoi drive past countryside and rice fields before into the mountains around Mai Chau. We'll make stops along the way to take advantage of the fantastic photo opportunities that this area affords as well as some short treks to visit some of the local villages of the Muong people.
On arrival, lunch is at the Lac village. Having lived here for over 700 years, residents of Ban Lac are mostly black Thais living from generation to generation with the main income from rice on the flooded terraced fields and from weaving. The stilt houses of Ban Lac maintain the ancient architectural style.
Walking around the lush valley we'll see how the local people plant rice and herd buffalo; trek to the nearby Thai villages of Pom Coong and Lac where you can shop for local handicrafts, or take a short buffalo cart ride. If you wish to sample the local rice wine!
Tonight, a traditional music and dance show with local cuisine.
Overnight is in a Lodge, rustic-but-comfortable with an outdoor pool.
DAY 4 | MAICHAU (B, L)
This morning pass beautiful valleys as we take a short drive to Xa Linh which is home to the Red and Blue Hmong minority people. The Red Hmong women are well known for their 'big hair'. Walk through the village and surrounding rice fields to get up close to this traditional lifestyle. Then we return to Hanoi with lunch at Mai Chau and with stops along the way to take photographs of the picturesque panoramas.
DAY 5 | HANOI - HALONG BAY (B, L, D)
Departing Hanoi this morning travelling past rice fields and small towns to Halong Bay, here we board a traditional style boat for a trip through the magical seascape of Halong Bay which includes stops at various islands and caves.
For those who wish, time is spent anchored for a swim or optional kayaking is available (payable to your guide). Overnight is on board your cruise boat in air-conditioned cabins with dinner on board. Remarks:
- Return transfers Hanoi - Halong - Hanoi by the cruise's shuttle bus (to group less than 10 pax) with pick up & drop off at your hotel,
- It is recommended bringing a small bag of valuable things & necessary travel items for 2 days use on board, you can leave the main luggage at the hotel and will get back upon return,
- Kayaking is not included and only serves upon request at additional cost,
- The cruise itinerary is subject to change upon the weather conditions.
DAY 6 | HALONG BAY - HUE (BRUNCH)
Awake to the sunrise over Halong Bay for breakfast on the cruise back to Halong by late morning, where we head back to Hanoi with a stop to visit a local village popular for embroidery and textile products.
Late afternoon, arrive Hanoi airport for the early evening flight to Hue. Transfer on arrival in Hue to your hotel.
DAY 7 | HUE (B, L)
Your Historical Hue tour takes you to the impressive World Heritage listed Citadel. The main gate to Imperial Citadel is where the last king of Vietnam, Bao Dai, abdicated in August 30th, 1945. Following your exploration of the Citadel enjoy lunch before a visit to the tomb of the Emperor Khai Dinh with its unique artwork and mosaics made from glass and ceramic fragments. During Khai Dinh's reign many western influences began to seep into the country and this is evidenced by the mixture of Western and Asian architecture of his tomb.
On the way back to your hotel, a stop at a roadside village to observe how locals make cinnamon incense, as well as traditional conical hats which is most famous from Hue, with its distinctive highquality bamboo, leaves often interlaid with pink paper pictures and Vietnamese poems. You'll be back at your hotel mid-afternoon for an opportunity for you to relax and enjoy the Spa facilities if you wish. Tonight, you may like to visit the local river-side market.
DAY 8 | HUE - HOI AN [HAI VAN PASS] (B)
This morning a special opportunity with a brief stop at Duc Son Pagoda. Run by Buddhist Nun Thich Nu Minh Tu. The Temple not only gives shelter to disadvantaged children, including Orphans and the homeless, the nuns have also created favourable conditions for the children to attend classes and go on to higher education. A brief visit allows you to see the wonderful work and the temple. Active Asia supports causes around Asia including this orphanage. Then travel over the spectacular Hai Van Pass, with views of Lang Co Beach and out to the Sea as we take the winding mountain road. We stop for a photo stop at the top, and at the former location of China Beach, once home to the American forces for 'R & R' during the war. During the 17th and 18th centuries, Hoi An was a major Asian trading centre and is now one of the most popular places to visit in Vietnam with its charming cobblestone streets and old shophouses. A wonderful town for getting clothes tailor-made or for buying art and souvenirs, Hoi An also boasts an excellent beach 5km from town, which can be reached by hiring a bicycle or grabbing a taxi.
DAY 9 | HOI AN (B, L)
Today a tour to the ancient ruins of My Son - the home to the Cham people centuries ago. The Kingdom at My Son dates back to the 4th century and remained fully occupied through until the 13th century which makes it the longest occupied of all the major monuments of South East Asia. Today the ruins show testament to the Cham with its impressive sculptures and buildings. Returning to Hoi An, enjoy lunch at a local restaurant before a short walking tour introduces you to the history and this ancient trading town. The World Heritage-listed town has more than 1000 houses that are over 150 years old, 7 ancient wells not to mention the art & antique galleries, lantern shops and tailors everywhere!
The evening is at leisure to enjoy the delight of Hoi An ancient town at night.
DAY 10 | HOIAN (B)
Today is a day of choice - you may choose to relax byyour hotels pool or head to the nearby beach, or get clothes tailor made or shop for gifts for home and enjoy the ancient buildings filled with art and homewares Alternatively, this is a great opportunity to gain some insights with these optional tours. Optional Experiences: Country Life Cycle Tour (½ day) A half-day cycle tour through the flat country roads to traditional farms that grow the produce for the surrounding area - a fascinating insight into traditional growing methods. Cooking Class (½ day) Begin with a market visit then learn all about the delicious cuisine and how to make popular dishes.
DAY 11 | HOIAN - HO CHI MINH CITY [SAIGON] (B)
A relaxing morning breakfast before our transfer to Danang Airport for the flight to Ho Chi Minh City (Saigon), on arrival transfer to your hotel to relax.
DAY 12 | SAIGON (B, L)
Today we head out of Saigon to visit the Cu Chi tunnels one of the few intact monuments to the Vietnam War. Beneath the ground lie 200km of underground tunnels, dug by hand and inhabited by the Viet Minh during the US war. A video of the tunnels in use is shown, before walking around the area to view some of the tunnels, field kitchens and hospital. Crawl inside and experience life in the tunnels if you wish! On the return to Saigon visit a lacquer ware workshop to view how this intricate artwork is made, and stop for lunch at a local restaurant. Discover this vibrant city's landmarks with a visit to the stunning Notre Dame Cathedral and the Ho Chi Minh Central Post Office, two major French colonial landmarks. Then visit the War Museum - a stark reminder of the US-Vietnam War. You will then visit a traditional medicine museum where you'll discover the use of natural herbs and traditional medicines. Late afternoon and evening is at leisure for you to enjoy the many cafes and markets.
DAY 13 | MEKONG DELTA (B, L)
Mekong Delta Tour. A visit to the Mekong is a fascinating insight into a world so apart from ours where some of the largest agricultural areas combine to produce, fishing and unique lifestyles.
From Saigon drive through the area known as the fruit bowl of Vietnam before we board a small boat to see river life as we explore the myriad of estuaries and islands. Visits are made to witness the amazing local industries popular in this area making food and crafts from the surrounding produce. A vast array of unusual tropical fruits, speciality goods made fresh and a very laid-back way of life is all on the show. You'll see River life and small homes, children heading to and from school and get to taste as you go!
DAY 14 | SAIGON - DEPARTURE (B)
Sadly, today is the end of your tour. We include a transfer to the airport for your departure.
Highlights of this Package:
From OMR 599.000 Per Person on Double Sharing Basis
All transfers and tour with local English-speaking guide

Accommodation as hotel list including daily breakfast

All sightseeing admission fees

All boat journeys
Package Validity: 31st December 2019
*Peak Season surcharge applicable during Blackout dates.