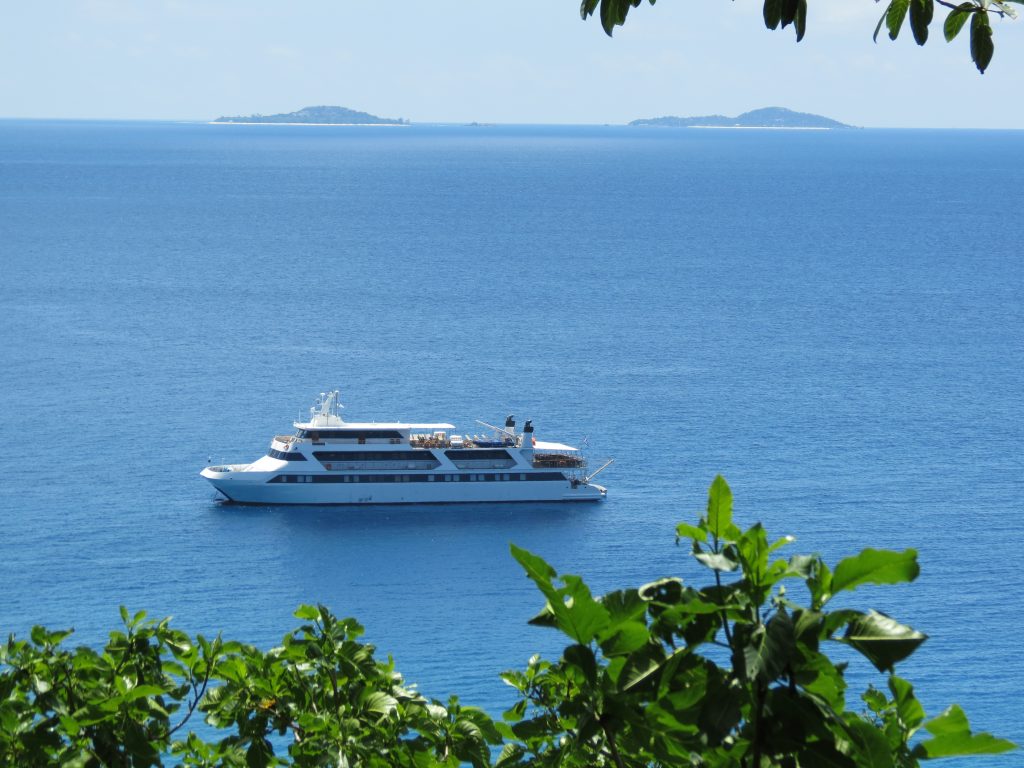 Variety Cruises: The Yacht Cruise Experience – 5 Days / 4 Nights
MAHE - ST ANNE - CURIEUSE - COUSIN - PRASLIN - ARIDE - ST PIERRE - PRASLIN
DAY 1: MAHE INTER ISLAND QUAY - ST ANNE ISLAND
Embarkation between 3pm and 4pm. After a welcome cocktail we leave Port Victoria and sail to nearby St Anne for a refreshing swim stop off the ship. Overnight at anchor near St Anne. Welcome dinner.
DAY 2: ST ANNE ISLAND - CURIEUSE
We leave St Anne Island early in the morning to reach Curieuse. This morning we visit this uninhabited island, once a leper colony and home to giant tortoises. Our walking excursion (included) with a park guide will bring us to the farm, along mangrove forests. Later we return to the beach for a BBQ under the trees. In the afternoon you can enjoy the beach and sea activities. Overnight at anchor.
DAY 3: CURIEUSE - COUSIN ISLAND - PRASLIN
In the morning set sail for Cousin Island. Walking excursion (included) to the Bird Sanctuary which is in the care of Bird Life International. A quarter of a million birds breed on Cousin which also has several nesting beaches for turtles. In the afternoon set sail to Anse Lazio, Praslin, one of the most beautiful beaches in the world. Time for swimming and snorkelling. Evening at anchor.
DAY 4: PRASLIN - ARIDE - ST PIERRE - PRASLIN
In the morning set sail to Aride. Walking excursion (included) to the top of the island for an amazing view of the island. The island is home to the Wright's gardenia found nowhere else on earth and to bird species like the Audubon's shearwater, the 
Seychelles
 warbler. At noon set sail for St Pierre Island, reaching St Pierre after lunch for a 3 hour snorkelling and swimming stop. At sunset, leave St Pierre to sail into Baie St Anne, Praslin. Overnight at dock. Creole Night.
DAY 5: BAIE ST ANNE, PRASLIN
Disembarkation between 9am and 10 am.
Please note: the itinerary is subject to change based on winds and sea conditions which may render anchorage and landing at some islands very difficult and the company reserves the right to change the itinerary for the safety of the passengers and of the ship.
Highlights of this Package:
OMR 426.00 per person on Double sharing
Enjoy island hopping from Mahe Inter Island Quay to Baie St Anne, Praslin In an extraordinary 5 day voyage to explore the breathtaking islands of Seychelles! Book your vacation today with #NTTOman
Variety Cruises is one of the leading yacht cruise lines worldwide, operating a fleet of 11 fully owned vessels offering travelers the ultimate Yacht Cruise experience. With capacities ranging from 5 to 36 cabins, Variety Cruises' upscale yachts and experiential cruise itineraries embrace each destination by visiting much-loved and unfrequented ports of call in a private, intimate and relaxed environment.
Validity: Based on sailing dates, please inquire with us.
GENERAL TERMS & CONDITIONS
THE PRICES ARE INDICATIVE AND SUBJECT TO FINAL CONFIRMATIONS.
PASSPORT TO BE VALID BEYOND 6 MONTHS OF PERIOD OF STAY.
CHECK-IN AT THE HOTELS 1400 HOURS AND CHECK-OUT 1200 HOURS.
SALES / TRAVEL / CANCELLATION CONDITIONS APPLY-KINDLY CHECK AT THE TIME OF BOOKING.
Package confirmed is subject to Booking Conditions / Cancellation policies as applied by Service Providers. Partially unutilized tickets are non-refundable. It is recommended that you take your travel insurance to cover you during your travel, medical expenses in case of an accident / illness, loss of baggage/personal effects, loss of ticket, change of ticket reservation and cancellation of the tour. It is the responsibility of passengers to ensure that their passports and visas are valid for travel. Kindly contact the relevant Embassy or Consulate for same.