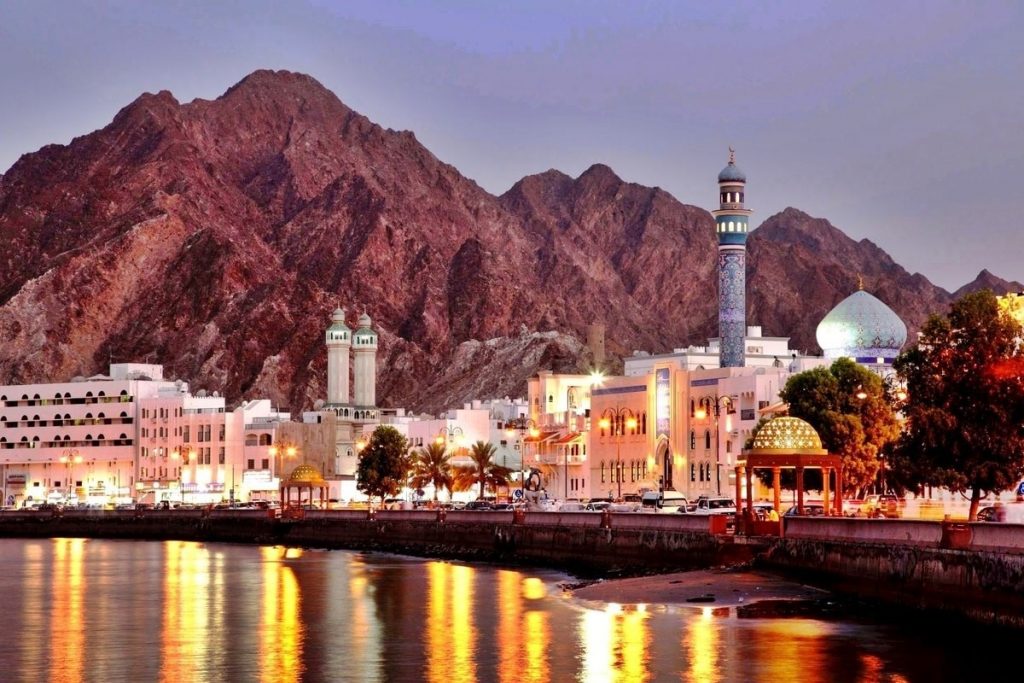 Cultural Oman – 7 Nights, 8 Days
DAY 01: ARRIVE MUSCAT
Arrive at Muscat airport, meet and assist by our representative and transfer to the Hotel.
Overnight at Muscat | Meals included: None
---
DAY 02: FULL DAY CITY TOUR OF MUSCAT
After Breakfast, you will be met at the hotel for a full day City Tour. The tour begins with a visit to the beautiful Sultan Qaboos Grand Mosque one of the largest mosques in the Middle East. Then we shall visit Royal Opera House Muscat is the leading arts and culture organization in the Sultanate of Oman. Located in Muscat, Oman, the vision of the Opera House is to serve as a centre of excellence in global cultural engagement. We strive to enrich lives through diverse artistic, cultural, and educational programs. Visit the Natural History Museum, exhibiting the wealth of Oman's history and thus imparting knowledge about the country's rich culture and traditions to the visitor. Then we proceed to visit Sidab Women's Association, Oman women are already empowered and strong minded who have important roles to play in all spheres of the society. The group was founded in 2004 by Badriya Al Siyabi with a clear aim of making women a significant earning member of the family. The group was all about pushing women from the coastal town to pursue their skill and turn it into an earning job.
Lunch at Bait Al Luban Restaurant
Then we drive along the picturesque Corniche to the once walled district Muscat. You will have photo stops at the residence of his Majesty Sultan Qaboos, the Al Alam Palace, which is flanked by the 16th-century Portuguese forts Mirani and Jalali. We then visit Muttrah Souq - one of the most popular souks in the Middle East. Take a walk in its labyrinthine alleyways beckoning with a myriad of merchandise, from imported fabrics to exotic Oriental spices, perfumes and richly handcrafted artefacts. A visit to this frenetic, pulsating hub of Muscat's old quarter makes for a delightful experience. Here, scents of exotic Arabian perfumes and spices float through the air. Other shops specialise in famous Omani khanjars (daggers), antiques, traditional silver jewellery, and handicrafts in copper, camel bone, wood, leather and hand-made Omani costumes.
Overnight at Muscat | Meals included: Breakfast
---
DAY 03: Al Hazm Castle - Rustaq - Wadi Bani Awf - Misfat Al Abreen
After breakfast, today we are proceeding to Misfah via Wadi Bani Awf, this spectacular wadi often flows year-round and looks particularly gorgeous when mountain rain causes the falaj (irrigation channels) to cascade over its walls. Our first destination will be Al Hussam castle is one of the most magnificent castles in Oman. It was built in 1708 towards the end of the reign of Al Yarubi tribe over Oman when they made Al Rustaq the capital at that time. the designer of this castle is Imam Sultan bin Saif al Yarubi. Al Hazm Castle is a fortified structure and at the same time, it was a palace in which the Imam lives in. It is worth noting that Al Hazm Castle is on the UNESCO's list for World Heritage sites along with Al Rustaq Fort. Then we visit Rustaq it's a town and Wilayah in Al Batinah Region of northern Oman. The wilayah is in the Western Hajar Mountains, in the south of the Batinah. Rustaq was once the capital of Oman, during the era of Imam Nasir bin Murshid al Ya'arubi.
Enjoy traditional Lunch at Bait Al Bimah
Then we start our off-drive through Wadi Bani Awf road to Misfah, The wadi covers a large area with several villages and lots of cool attractions worth visiting, including the well-known Snake Canyon! Wadi Bani Awf offers some of the best off-road driving you experience in Oman - with beautiful scenery and stunning cliffs and canyons throughout. The route connects several villages, including the scenic Balad Sayat village, and extends across the Hajar Mountains portion separating Al Batinah from Al Dakhiliyah region.
Reach at Misfat al Abreen
Overnight at Misfah Old House | Meals included: Breakfast
---
DAY 04: Misfat al Abreen - Al Hmara - Nizwa
After Breakfast Today we are visiting Misfat Al Abriyeen is a unique mountainous village located 1,000 m above sea level on the mountain foothills surrounding wilayat Al Hamra in Al Dhakhiyla Governorate. The village derives its name from the Al Abri tribe, who originally comes from Misfat Al Abriyeen and Al Hamra. Misfat Al Abriyeen village boasts amazing agricultural terraces, beautiful alleys, and old houses built on top of solid rocks. The combination of these elements gives a visitor to Misfat Al Abriyeen a dramatic image from the viewing platform, which is a short walk from the entrance to the village.
After a short walk at Misfat Al Abreen, we proceed to Al Hamra, It's a 400-year-old town in the region Ad Dakhiliyah, in northeastern Oman. As a province, it is home to a number of villages including the mountainside village of Misfat Al Abryeen, with the village of Ghul to the northwest of the town, and Bimah to the north-northeast.
Lunch at Al Hamra, After Lunch, we proceed to Nizwa
Check -in at Hotel
Overnight at Golden Tulip Nizwa | Meals included: Breakfast
---
DAY 05: Nizwa - Birkat Al Mouz - Jebel Akdhar - Nizwa
After breakfast, Today we are proceeding to visit Nizwa, we visit Nizwa Fort, the 17th century round tower fort nearby is Oman's most impressive tower. Built on a solid base of the rock, the huge tower was designed to withstand the vibrations of 24 cannons. From the top, a superb panoramic view gives visitors a bird's eye view all around Nizwa and the surrounding plains, a sure delight for all photographers. The adjoining marketplace, Nizwa Souk, is lined with handicrafts stalls and silversmiths working in small shops.
The impressive New Souq complex has been sensitively designed using Omani fort architecture and elegant Islamic arches. The air-conditioned halls of this souq are full of fresh fruit and vegetables, herbs and spices, huge stacks of dates and freshly caught fish. This is still the best place to buy traditional silver "Khanjars" (hand-carved Omani daggers) and Bedouin jewellery, where silver is still sold by weight. Then visit to Jabrin Castle enables the visitor to recapture the atmosphere of medieval Oman.
Then we drive to Jebel Akhdar. On the way visit Birkat Al Mouz , Birakat al Mouz Oman is one of the most famous villages in ruins in the Sultanate. With the 2 sets of ruins, a large banana plantation and the scenic surroundings, the site is also home to the old Falaj irrigation system listed as Unesco World heritage.
In Arabic, Jebel Akhdar (Green Mountain) may seem something of a misnomer to the first-time visitor. Firstly, Jebel Akhdar refers not to a mountain as such, but to an area that encompasses the great Saiq Plateau, at 2000m above sea level. Secondly, the jebel keeps its fecundity well hidden in a labyrinth of wadis and terraces where the cooler mountain air (temperatures during December to March can drop to -5°C) and greater rainfall (hailstones even) encourage prize pomegranates, apricots and other fruit.
Enjoy lunch at a local restaurant, Then drive back to Nizwa
Overnight at Golden Tulip Nizwa | Meals included: Breakfast
---
DAY 06: Nizwa - Ibra - Bedouin House - Wahiba
After breakfast, Proceed to Wahiba, On the way visit Ibra it has been modernised in the 1970s it still has the nostalgia of a Middle East that once was. There are many castles and old mosques that are culturally enlightening. A unique feature of Ibra is the 'Wednesday Souq' run entirely by women. On the far side of Ibra lies Al Mansfah village, a community of mansions once owned by prosperous merchants of the 19th century during the reign of Said the Great.
Reach at desert & proceed to visit Bedouin house.
Anybody who chooses to live in the environment of Wahiba Sands must be hardy and resilient to tolerate its potentially harsh climate - and bedu are just that. There are over 3000 Bedu of varying tribal origins who live here amongst the woodland on the fringes of the sands.
Experience today Lunch at Bedouin house
Then proceed to Desert Camp, Check-in at Camp, Evening enjoy the sunset at Desert
Overnight stay at 1000 Nights Camp Wahiba Sands | Meals included: Breakfast & Dinner
---
DAY 07: Wahiba- Wadi Bani Khalid - Sur - Ras Al Hadd
After breakfast, We proceed to wadi bani khlid this is considered one of the most beautiful wadi's in Oman. The drive to Wadi Bani Khalid is through the Eastern Hajar Mountains, which offers a panoramic view of the landscape below. We pass many pretty villages embedded in the mountains. Here the road winds down to the wadi along- side a large, shallow pool fringed with vegetation and ends at a village. We park our vehicles at this point and continue on a short trek to the deep blue pools of the wadi. Enjoy a swim in this glorious grace of nature.
Enjoy Lunch at Wadi Bani Khalid
Then we proceed to Sur is a port city on Oman's eastern tip. Its shipyards, which still produce traditional wooden vessels, played a pivotal role in Oman's maritime past. In the city centre, Sunaysilah Fort has 4 defensive towers around a courtyard. Exhibits at the Maritime Museum include ship models. Visit traditional dhow factory Boats have been built in Sur, on the shores of the Gulf of Oman, for thousands of years. Dhows are no longer used for the trade that led to Oman's prosper­ity in ancient times and Sur's boat builders no longer produce the gi-ants of the dhow family.
Proceed to hotel check-in at hotel, 2100hrs: after dinner, we shall proceed for turtle watching
One of the most popular eco-tourism activities in Oman is turtle viewing. Oman is home to several important nesting sites for four different species of the turtle: the endangered Green Turtle, the Olive Ridley Turtle, the Loggerhead Turtle, and the critically endangered Hawksbill Turtle.
Overnight stay at Turtle Beach Resort, Ras Al Hadd - Meals included: Breakfast & Dinner
---
DAY 08: Ras Al Hadd - Wadi Shab - Bimah Sinkhole - Muscat International Airport
After breakfast, we are proceeding to Muscat via the coastal road, visit Wadi Shab Aptly named in Arabic the 'Gorge Between Cliffs', Wadi Shab is still one of the loveliest destinations in Oman -Sur Hwy slung across the entrance. The wadi rewards even the most reluctant walker with turquoise pools, waterfalls and terraced plantations; kingfishers add glorious splashes of colour and all-year-round trusses of pink oleander bloom by the water's edge.
While swimming in the lower pools is forbidden (they are a source of drinking water), there is an opportunity for discreet swimming in the upper reaches of the wadi, where you can duck into a partially submerged cave.
lunch at Wadi Shab Resort
Then we visit Bimah Sinkhole Bimmah Sinkhole is a water-filled depression, structurally a sinkhole, in the limestone of eastern Muscat Governorate in the Sultanate of Oman. A lake of turquoise waters, it is 50 m by 70 m wide and approximately 20 m deep. It is only about 600 m away from the sea, between the coastal towns of Ḑibāb and Bimmah.
Then proceed to Muscat international airport to catch your late evening flight.
Quick Facts about this Tour
Main Attractions
Day 02
Sultan Qaboos Grand Mosque

Royal Opera House

Natural History Museum

Sidab Women's Association

Al Alam Palace

Muttrah Souq
Day 03
Al Hussam Castle

Rustaq

Wadi Bani Awf

Snake Canyon

Bilad Sayt 
Day 04
Misfat Al Abreen

Al Hamra
Day 05
Nizwa Fort

Nizwa Souk

Birkat Al Mouz

Jebel Akdhar
Day 06
Day 07
Wadi Bani Khalid

Sur

Ras Al Hadd

Turtle watching
Day 08
RATES: UPON REQUEST
GENERAL TERMS & CONDITIONS
The prices are indicative and all respective services are purely subjected to availability upon final confirmations.
All current accommodation/service taxes have been included while quoting. If there is any unexpected increase in the accommodation rates extended by respective hotels, existing accommodation/service tax structure, hike in the fuel prices or air fare will be charged extra as applicable.
It is recommended that you take necessary travel insurance to cover medical expenses in case of an accident/illness, loss of baggage/personal belongings/air tickets, change of air tickets and cancellation of the tour.
All arrangements made by NTT Tours are in the capacity of an agent only. NTT shall not be liable for any claims or expenses arising from circumstances beyond our control such as accidents, injuries, delayed flights, etc & all acts of force majeure.