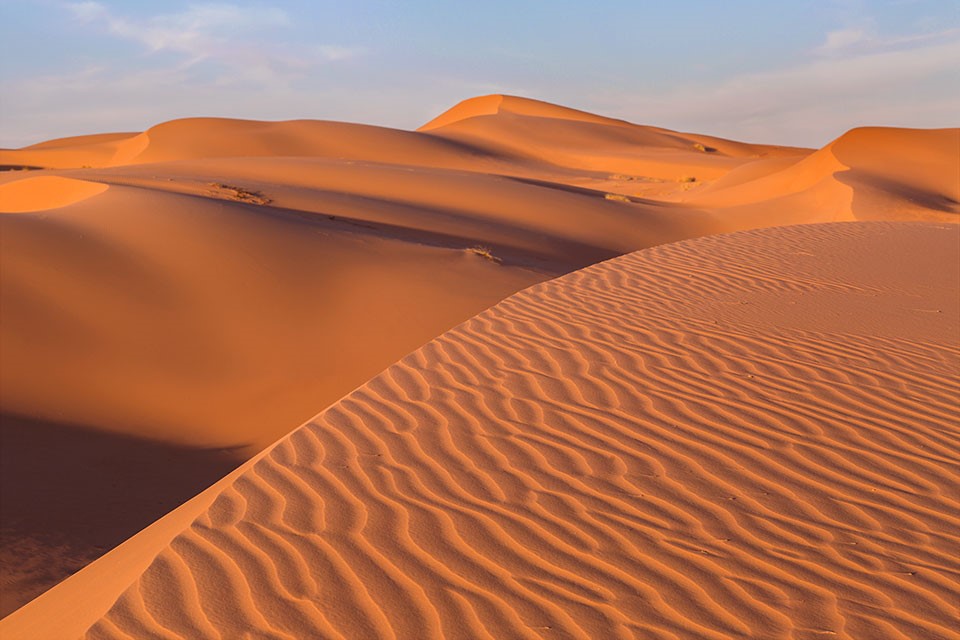 The Lost City of Ubar – Rub Al Khali Desert
Once you are in Dhofar, it is an absolute must, that you visit Ar Rub Al Khali (The Empty Quarter), Dhofars most remarkable and popular site with its unspoilt and magical sand dunes. We leave the Hotel at 07:30 hrs by 4x4 vehicle and drive towards the 'Qara' mountain range with its spectacular view of the Salalah plains dotted with thick shrub & woodland.  After having a small break in Thumrait town, which was famous as a Bedouin settlement, we proceed west on graded road crossing the huge gravel desert of ' Al Nejd'.
After a 175 Km journey from Salalah city we reach our first attraction in the desert, arriving at the 'Lost City of Ubar' (UNESCO World heritage site). This legendary ancient kingdom, known as Ubar, was said to have existed in one of the most inhospitable places on earth - a vast and forbidding Rub Al Khali desert, appropriately known as the Empty Quarter. According to myth, the desert swallowed up Ubar. Quite literally, it sank without trace -becoming the fabled "Atlantis of the Sands." This once buried city, which was spotted by satellite, gives you a glimpse of the value of work carried out by a team of explorers in 1992, led by Sir Ranulph Fiennes.
After walking around the site we proceed to the Empty Quarter to experience the "biggest sand desert in the World" by rambling on fascinating sand dunes. A breathtaking overview of the vast desert awaits you on the top of the dunes. We settle down for a typical Arabian lunch/picnic lunch in the desert thereafter.
Quick Facts about this Tour
Full day private 4X4 tour as per above itinerary with English speaking driver guide.

Visit Ubar, the Lost Village, Rub Al Khali Desert.

Experience Dune driving.

Picnic/Lunch from local restaurant.

Mineral water in the car.
RATES: UPON REQUEST
GENERAL TERMS & CONDITIONS
The prices are indicative and all respective services are purely subjected to availability upon final confirmations.
All current accommodation/service taxes have been included while quoting. If there is any unexpected increase in the accommodation rates extended by respective hotels, existing accommodation/service tax structure, hike in the fuel prices or air fare will be charged extra as applicable.
It is recommended that you take necessary travel insurance to cover medical expenses in case of an accident/illness, loss of baggage/personal belongings/air tickets, change of air tickets and cancellation of the tour.
All arrangements made by NTT Tours are in the capacity of an agent only. NTT shall not be liable for any claims or expenses arising from circumstances beyond our control such as accidents, injuries, delayed flights, etc & all acts of force majeure.