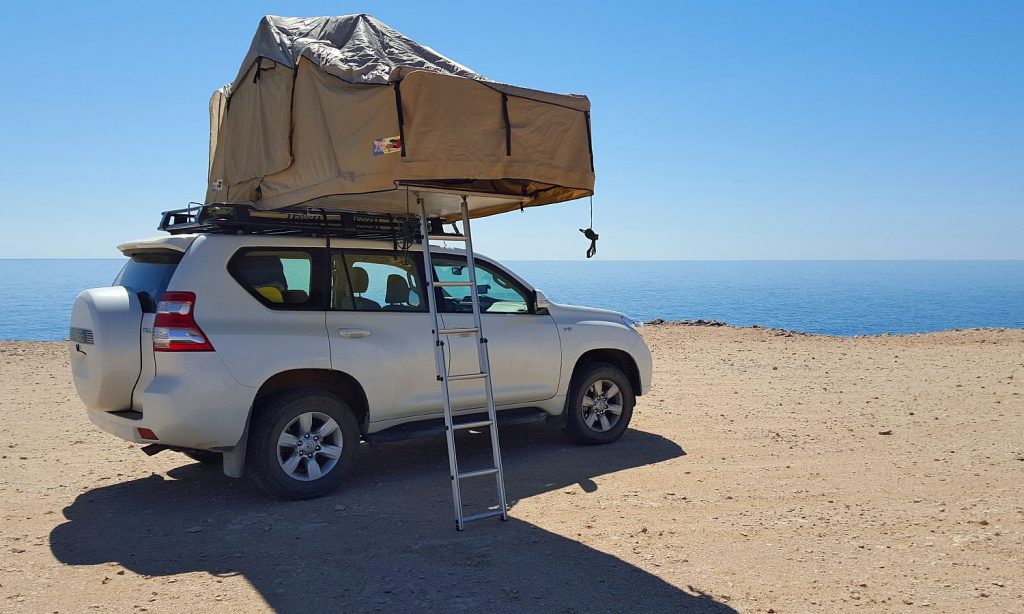 Oman Adventure (Self-Drive Tour) – 08 Nights, 09 Days
DAY 01: ARRIVE MUSCAT
Arrive at Muscat airport, meet and assist by our representative and transfer to the Hotel.
Overnight at Muscat | Meals included: None
---
DAY 02: MUSCAT
After breakfast, Morning around 0900 hours our representative will deliver the 4WD Tented vehicle at your hotel. Today's plan includes places in and around Muscat city. Start with the beautiful Sultan Qaboos Grand Mosque (closed on Fridays and public holidays), one of the largest mosques in the Middle East. Visit the Bait Zubair Museum, exhibiting the wealth of Oman's Cultural history and thus imparting knowledge about the country's rich culture and traditions to the visitor. Later you drive along the picturesque Corniche to the once walled district of Old Muscat. You may stop outside Al Alam Palace, the residence of his Majesty Sultan Qaboos for some photos. The palace is flanked by the 16th century Portuguese forts Mirani and Jalali. Then you may stroll through Muttrah Souq, where you will be bargaining for handicrafts and silver items.
Overnight at Muscat | Meals included: Breakfast
---
DAY 03: MUSCAT - NAKHAL - WADI BANI AWF - JEBEL SHAMS
After breakfast start the first leg of your adventurous road trip in Oman. Drive towards the city of Nakhal and visit Nakhal Fort. The narrow road through the town winds up to the Hot Springs of Ayn Al Thuwarah, which is a popular picnic spot. Continue to enter Wadi Bani Awf, known as snake canyon for the series of winding roads through mountains which leads you to the village of Al Hamra. Then drive up to Jebel Shams, Grand Canyon of Oman. Jebel Shams will be the first camping destination for you
Overnight at Jebel Shams | Meals included: None
---
DAY 04: JEBEL SHAMS - MISFAT AL ABRIYYIN - AL HAMRA
TThis Morning drive down all the way to Al Hamra. En route you may stop at Wadi Ghul, the farming village in the mountains. Later drive to the historical village of Misfat Al Abriyyin, one of the oldest village of Oman where civilization is there. You may go for a short walk in and around the village, but make sure you are wearing something which covers your knees. Then drive back to Al Hamra. Al Hamra will be the second camping destination for you.
Overnight at Al Hamra | Meals included: None
---
DAY 05: AL HAMRA - BAHLA - JABREEN - NIZWA - JABAL AKHDAR
Today you will head towards the Jabal Akhdar, the green mountains of Oman. On the way, you will visit the mystical village of Bahla, which is famous for Arabian Potteries. You may also go for Bahla Fort (closed on Fridays and public holidays). There after proceed to visit Jabreen Castle built in 17th century, with magnificent plasterwork, wooden carvings; painted ceiling makes this castle amazingly different. Then you will visit historical town of Nizwa. You will see the beautiful Nizwa Fort (closed on Fridays and public holidays) with its massive Circular Cannon Tower, making it one of the most impressive forts in Oman and walk through the traditional Nizwa Souq (closed on Fridays and public holidays). Later drive up to Jabal Akhdar. Visit the terrace plantations, village of Saiq & Wadi Bani Habib. Jabal Akhdar will be the third camping destination for you.
Overnight at Jabal Akhdar | Meals included: None
---
DAY 06: JABAL AKHDAR - BIRKAT AL MOUJ - IBRA - WAHIBA
This morning proceed to Wahiba Sands. On the way, you may like to visit Birkat Al Mouj, the place where you found lush green dates plantation. Drive up to the view point to get some spectacular snaps of the ruins of the old village and plantations. While you move forward you will notice the dramatic change of nature of the landscapes. En route, you will visit another historical village of Ibra. Ruins of the old Ibra village is an ultimate place for the photographers. Thereafter reach Bidiyah, from where the dessert starts. Tonight you may stay in your camp or you can book one of the local guest houses there. Guesthouse is recommended because you may need proper bath and relaxation to complete the remaining stretch of your journey after three days of tiring drive. You may go for a drive into the desert to see the sunset.
Overnight stay at Wahiba Sands | Meals included: None
---
DAY 07: WAHIBA - AL ASHKHARAH - RAS AL HADD
Today you will head towards the southeastern direction to the coastal area. On the way, you will be visiting several traditional villages of Oman like Al Kamil Wal Wafi, Jalan Bani Bu Hassan, Jalan Bani Bu Ali. Bypassing all the villages you will reach Al Ashkharah, one of the most beautiful and scenic beach of Oman. Thereafter you will drive further to the north on the coastal road. You will be passing scenic Ru'Ays beach to reach Ras Al Hadd. Ras Al Hadd will be the camping destination for you tonight. If you want then you can visit  Ras Al Jinz Turtle Reserve to see the green turtles who are coming after a journey of thousands of kilometers to lay their eggs.
Overnight stay at Ras Al Hadd / Meals included: None 
---
DAY 08: RAS AL HADD - SUR - MUSCAT
Today is the last leg of the entire journey. Major part of today's drive will be on the coastal road. You will drive to Sur, the marine city of Oman. Here you can see how the dhows are getting prepared. Later the road leads through scenic countryside and rugged mountains to the small fishing towns. On the coastal road you stop for some pictures at Bibi Miriam Mausoleum in Qalhat, Wadi Tiwi and Fins Beach. You may also stop at limestone Sinkhole in Bimmah before reaching Muscat. After reaching Muscat check-in at the hotel. Our representative will come to collect the vehicle from you. Evening on your own
Overnight stay at Muscat / Meals included: None 
---
DAY 08: DEPARTURE MUSCAT
After breakfast get a departure transfer to the Muscat International Airport to get the flight to fly back home.
Tour ends.
Meals included: Breakfast
Quick Facts about this Tour
Visit the Sultan Qaboos Grand Mosque.

Visit Bait Al Zubair Museum, Muttrah Souq.

Visit Al Alam Palace, Jalali-Mirani Forts, Muttrah Corniche.

Visit Bimmah Sinkhole.

Drive through the scenic coastal road.

Watch Green Turtle at Ras Al Jinz.

Visit Al Ashkharah Beach.

Visit Masirah Island.

Visit Wadi Bani Khalid.
RATES: UPON REQUEST
GENERAL TERMS & CONDITIONS
The prices are indicative and all respective services are purely subjected to availability upon final confirmations.
All current accommodation/service taxes have been included while quoting. If there is any unexpected increase in the accommodation rates extended by respective hotels, existing accommodation/service tax structure, hike in the fuel prices or air fare will be charged extra as applicable.
It is recommended that you take necessary travel insurance to cover medical expenses in case of an accident/illness, loss of baggage/personal belongings/air tickets, change of air tickets and cancellation of the tour.
All arrangements made by NTT Tours are in the capacity of an agent only. NTT shall not be liable for any claims or expenses arising from circumstances beyond our control such as accidents, injuries, delayed flights, etc & all acts of force majeure.