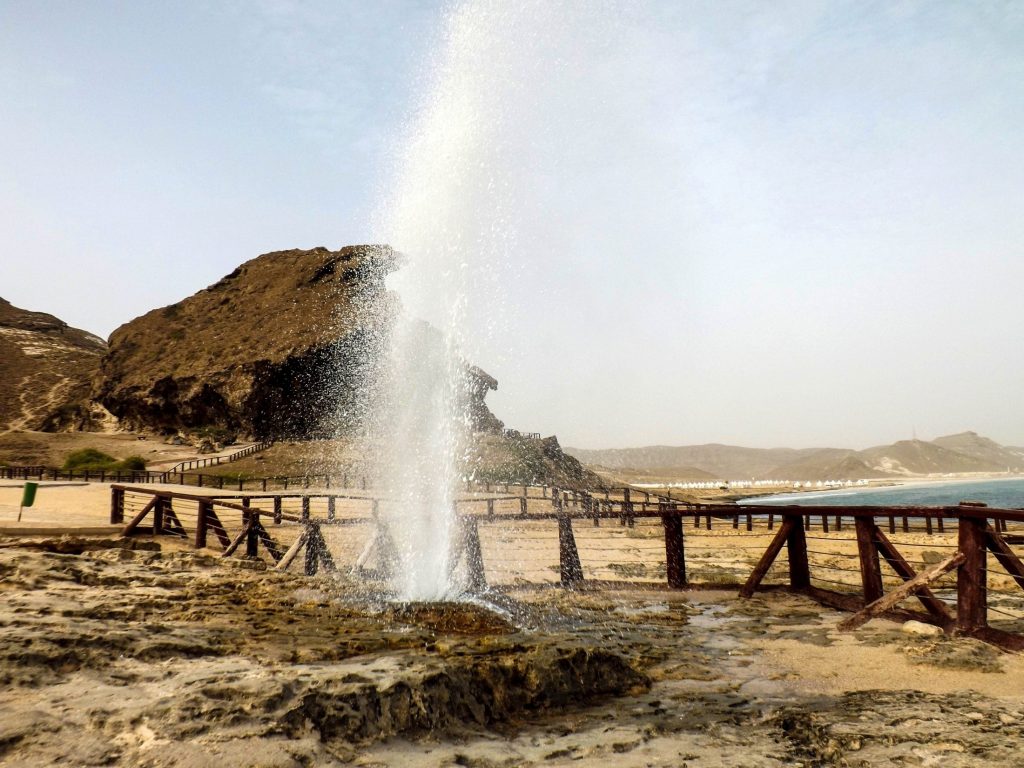 Frankincense Trail – West Salalah
We start our half day exploration of Dhofar by driving towards the 'Qara' mountains. On a road steadily winding up a steep incline, herds of Camels & Cattle are a common sight which gives a scenic view of a traditional Dhofari rural beauty. Visit the ancient tomb of 'Prophet Job' situated in the scenic green mountains of the Salalah Plains. Experience the legendary story of Prophet Job and his devoutness.
Proceed to the beach of Mughsail where the white sand touches the deep blue of the ocean & at high tide, where waves burst through the natural titanic 'Blow Holes', at the far end of the 'Rocky beach' with a cave-like entrance.
We thereafter continue along the 'Hair-pin-bend' road towards Western Border of Oman, with its breathtaking cliffs on either side, to see the historical 'Frankincense trees' growing in their natural habitat, deep down in the valleys, dotting the dry & craggy countryside. We take a short walk into the valleys to smell the 'Holy Incense' amidst the scenic view of the region.
On our return journey we make a photo stop at the lagoon at Mughsail where migratory birds - occasionally flamingos - are a common sight. Return to the hotel.
Quick Facts about this Tour
Half day private city tour as per above itinerary with English speaking driver guide.

Visit the famous Job's Tomb, Mughsail Beach & Blow Holes, Frankincense Trees.

Entrance fees included as per the itinerary.

Mineral water in the car.
RATES: UPON REQUEST
GENERAL TERMS & CONDITIONS
The prices are indicative and all respective services are purely subjected to availability upon final confirmations.
All current accommodation/service taxes have been included while quoting. If there is any unexpected increase in the accommodation rates extended by respective hotels, existing accommodation/service tax structure, hike in the fuel prices or air fare will be charged extra as applicable.
It is recommended that you take necessary travel insurance to cover medical expenses in case of an accident/illness, loss of baggage/personal belongings/air tickets, change of air tickets and cancellation of the tour.
All arrangements made by NTT Tours are in the capacity of an agent only. NTT shall not be liable for any claims or expenses arising from circumstances beyond our control such as accidents, injuries, delayed flights, etc & all acts of force majeure.