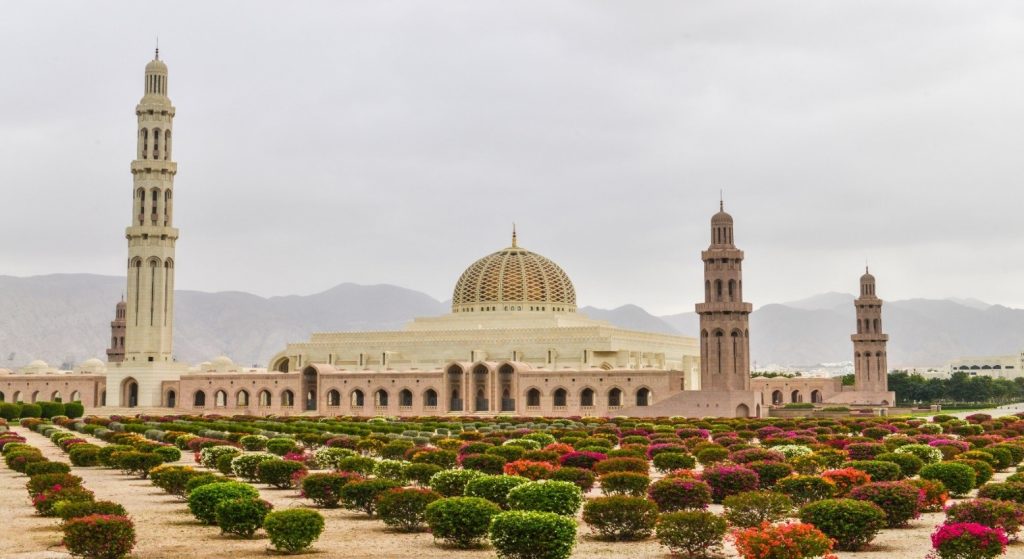 Muscat Culture Tour – 4 Nights, 5 Days
DAY 01: Arrive Muscat
Arrive at Muscat airport, meet and assist by our representative and transfer to the Hotel.
Overnight at Al Falaj Muscat | Meals included: None
---
DAY 02: Grand Mosque-National Museum- Armed Forces Museum- Muttrah Souq
After Breakfast, 0830hrs: The tour begins with a visit to the beautiful Sultan Qaboos Grand Mosque, one of the largest mosques in the Middle East. Visit National Museum, it is not only the largest museum in the Sultanate; it also houses tens of thousands of artifacts in its collection that comprehensively tell the nation's story. Later you Visit  Sultan's Armed Forces Museum. The museum is located at Fort Al Falaj House in Ruwi region in the Governorate of Muscat. The museum accommodates weapons, clothing, instruments, and other defence systems that display both visually and audibly the development of the Omani armed forces throughout history and back to the Hotel then at 05:00 PM You will visit Muttrah Souq, where you will be bargaining for handicrafts and silver items. After that visit, Al-Riyam Park At the Old Muscat end of Mutrah is Al-Riyam Park. There is a playground near the corniche and a famous giant incense burner.
Overnight at Al Falaj Muscat | Meals included: Breakfast
---
DAY 03: Seeb- Seeb Fish- Souq Seeb- Mall of Muscat
After Breakfast, 0800hrs: Morning drive to the town of Seeb a coastal fishing city, located several kilometers northwest of Muscat, in northeastern Oman the first stop is Seeb Fishmarket which Covers a large indoor area with the traders putting on display a variety of fishes, small, big, enormous, different types of shellfish after that visit Souq Seeb a beautiful ring of markets and shops - traditional Omani clothing tailors, jewellery and perfumery houses, fresh-out-of-the-water fish markets, spice shops, and everything in between. It is an old part of the city that attracts locals and expatriate residents who enjoy exploring the thin alleyways, breathing in the fresh ocean air, and bargaining for great deals
Then visit Mall of Muscat. The Mall of Muscat is located in Mabellah and conveniently situated between the Muscat Expressway and Highway 1. And it contains the much anticipated Oman Aquarium (the largest aquarium in the Middle East and the area is 8000 square meters) and it has a dedicated outdoor dining 'street' and in excess of 200 shops offering shoppers specialized international brands that will only be available within Mall of Muscat. Back to Hotel
Overnight at Al Falaj Muscat | Meals included: Breakfast
---
DAY 04: Natural History Museum- Bait Al Baranda-Bait Al Zubair
After Breakfast, 0830Hrs: Visit the Natural history museum The Museum shows the Omani environment diversity through offers of terrain, geology, plants, insects, wild animals and marine life. Despite the small size of the Museum but abounding of facts dealing with biodiversity of the Sultanate of Oman After that visit Bait Al Baranda Also known as Bait Nasib, Bait Al Baranda is a historic building that is home to a small but exquisite collection charting the history of Muscat. Renowned for its iconic veranda, the local Arabic name for which, baranda, is memorialized in the museum's name, the building was home to the American Mission in 1909 when it was used as a clinic. After the mission moved out after that visit  Bait Al Zubair is a private museum and cultural complex that has given visitors an insight into Oman's rich heritage since it opened its doors in 1998. What sets the Bait Al Zubair apart is its rich collection of artifacts, weapons and displays showing the many unique and distinctive cultures that vary from one region of Oman to the other Back to the Hotel then in the evening Visit  the Qurum Natural Park a spacious public garden and nature reserve, known for its scenic landscaping and large, placid lake. Open since 1993, the vast park remains a green lung of Muscat and a popular spot for locals and tourists alike to stroll then visit Al Qurum Beach  This beach lies in Al Qurm Area in the heart of Muscat and extends over a large area. A number of large hotel chains are built next to it, such as Hotel Muscat InterContinental and Crowne Plaza. This beach is considered one of the busiest in Muscat due to its location near shopping centres and restaurants. Walking enthusiasts can enjoy the boardwalk along the beach and then rest on the numerous chairs and umbrellas that dot the beach.
Overnight at Al Falaj Muscat | Meals included: Breakfast
---
DAY 05: Departure Transfer
Day is at your own leisure. By evening, you will be transferred to the airport for your flight back home.
Meals included: Breakfast
Quick Facts about this Tour
Meet & greet by our airport representative.

Private airport transfers using quality vehicles.

Licensed English-speaking guides

Visit Grand Mosque-National Museum-Armed Forces Museum-Muttrah Souq.

Visit Seeb-Seeb Fish-Souq Seeb-Mall of Muscat
RATES: UPON REQUEST
GENERAL TERMS & CONDITIONS
The prices are indicative and all respective services are purely subjected to availability upon final confirmations.
All current accommodation/service taxes have been included while quoting. If there is any unexpected increase in the accommodation rates extended by respective hotels, existing accommodation/service tax structure, hike in the fuel prices or air fare will be charged extra as applicable.
It is recommended that you take necessary travel insurance to cover medical expenses in case of an accident/illness, loss of baggage/personal belongings/air tickets, change of air tickets and cancellation of the tour.
All arrangements made by NTT Tours are in the capacity of an agent only. NTT shall not be liable for any claims or expenses arising from circumstances beyond our control such as accidents, injuries, delayed flights, etc & all acts of force majeure.