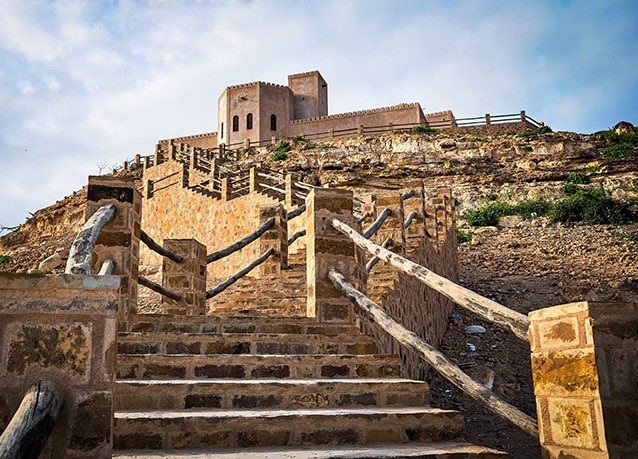 Fabled Castles – East Salalah
The excursion begins with a visit to the old fishing village of 'Taqah', famous for the manufacture of 'Dried Sardines' & its traditional & old  'Dhofari Houses'. Visit the century old 'Taqah Castle', the former official residence of the 'Wali' (Governor) of the region & obtain a glimpse into the rich history of the region.
Continue onto the ancient ruins of the once famous city of Sumharam (Khor Rohri). The city was the easternmost outpost of the Hadramawt Kingdom on the ancient incense route between the Mediterranean Sea, Persian Gulf and India. Khor Rori was an important port on the coast of Dhofar, and one of the major trading cities with frankincense, believed to have been the hub & harbour for the shipping of Frankincense (UNESCO World Heritage site).
A picturesque drive then leads you to 'Mirbat', the ancient capital of Dhofar and the beginning of the 'Frankincense trail'. Stroll through the streets lined with old Omani mud houses & visit the 'twin-domed Bin Ali's Tomb' as a photo stop …a classic example of medieval architecture. On our way back to the hotel, explore the natural spring of 'Ayn Razat', beautifully laid out amidst the tranquil lush mountains & nourished every day of the year by natural underground spring water. Return to the hotel by late noon.
Quick Facts about this Tour
Half day private tour as per above itinerary with English speaking driver guide.

Visit Taqah, Sumharam (Khor Rori), Mirbat, Ayn Razat.

Entrance fees included as per the itinerary.

Mineral water in the car.
RATES: UPON REQUEST
GENERAL TERMS & CONDITIONS
The prices are indicative and all respective services are purely subjected to availability upon final confirmations.
All current accommodation/service taxes have been included while quoting. If there is any unexpected increase in the accommodation rates extended by respective hotels, existing accommodation/service tax structure, hike in the fuel prices or air fare will be charged extra as applicable.
It is recommended that you take necessary travel insurance to cover medical expenses in case of an accident/illness, loss of baggage/personal belongings/air tickets, change of air tickets and cancellation of the tour.
All arrangements made by NTT Tours are in the capacity of an agent only. NTT shall not be liable for any claims or expenses arising from circumstances beyond our control such as accidents, injuries, delayed flights, etc & all acts of force majeure.