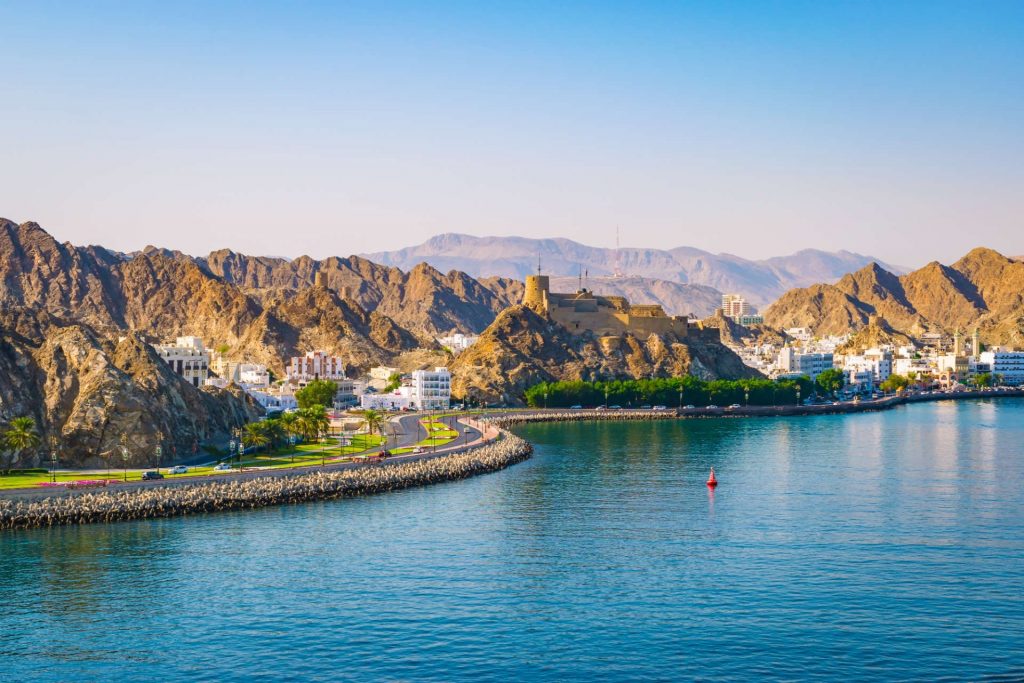 Oman Highlands – 6 Nights, 7 Days
DAY 01: ARRIVE MUSCAT
Arrive at Muscat airport, meet and assist by our representative and transfer to the Hotel.
Day at leisure.
Overnight at Muscat | Meals included: None
---
DAY 02: FULL DAY CITY TOUR OF MUSCAT
After Breakfast
Proceed for Full Day Muscat city tour. Start your tour with a visit to Grand Mosque the most exquisite Mosque in Oman. The developed part of the site, including the fully consolidated areas and landscaping, covers 416,000 square metres. The Mosque complex (covering 40,000 square metres) is constructed on a raised podium in keeping with the tradition of Omani mosques that were built elevated from street level. It can accommodate up to 20,000 worshippers and consists of the main prayer hall, ladies prayer hall, covered passageways, a meeting hall, and a library which will eventually contain up to 20,000 books. A major feature of the main prayer hall is the hand-made Persian carpet consisting of. 1,700 million knots, Weighing 21 tones and made in a single piece measuring 70 x 60 metres.
Note: Ladies visiting the mosque are required to cover their head with a scarf and do not wear shorts, beachwear or sleeveless outfits as they are to be fully covered. Men are required to wear long trousers. No shorts are allowed.
Later visit Royal Opera House Muscat is the leading arts and culture organization in the Sultanate of Oman. Located in Muscat, Oman, the vision of the Opera House is to serve as a centre of excellence in global cultural engagement. We strive to enrich lives through diverse artistic, cultural, and educational programs.
We then visit Muttrah Souq - one of the most popular souqs in the Middle East. Take a walk in its labyrinthine alleyways beckoning with a myriad of merchandise, from imported fabrics to exotic Oriental spices, perfumes and richly handcrafted artefacts. A visit to this frenetic, pulsating hub of Muscat's old quarter makes for a delightful experience. Here, scents of exotic Arabian perfumes and spices float through the air. Other shops specialise in famous Omani khanjars (daggers), antiques, traditional silver jewellery, and handicrafts in copper, camel bone, wood, leather and hand-made Omani costumes.
 Break for lunch at local restaurant
 After lunch Drive to the old town of Muscat and visit Al Alam Palace the official residence of His Majesty Sultan Qaboos Bin Said the ruler of Oman. The palace is an architectural marvel for both its design and its location between the twin Portuguese forts Mirani and Jalali (A brief photograph stop from outside only).Visit Bait Al Zubair Museum. It consists of a concise collection reflecting the splendid Omani Heritage. The collection includes traditional Omani Weapons such as swords, daggers, rifles & their accessories, along with jewellery, cosmetics & costumes from various regions of Oman.
Overnight at Muscat | Meals included: Breakfast
---
DAY 03: MUSCAT - NAKHL - WADI BANI AWF - JEBEL SHAMS
After breakfast check out from the hotel and depart to Nakhl. Nakhal is a traditional town dominated by the Hajar Mountains and one of Oman's most dramatic forts. The fort was well-placed to protect the large date plantations here that flourish thanks to the presence of abundant spring water. There are a few sights of interest scattered through the plantations spread across the surrounding plain including two old mud-built houses, Harrat Asfalah and Bait Al Ghasham, both of which are indicated with brown signs. Then proceed to Jebel Shams Via Wadi Bani Awf This spectacular wadi often flows year-round and looks particularly gorgeous when mountain rain causes the falaj (irrigation channels) to cascade over its walls.
Picnic Lunch
Reach At Jebel Shams Jebel Shams, the Great canyon of Oman is a mountain located in north-eastern Oman north of Al Hamra town. It is the highest mountain in the country and part of Al Hajar Mountains range. Enjoy the breathtaking view of the great Canyon.
Overnight at Jebel Shams Resort | Meals included: Breakfast & Dinner
---
DAY 04: W6 TREKKING
After breakfast We are proceeding for a W6 Cliff Walk to the abndoned village, it's an exciting walk along the steep Canyon walls to an old village, bringing you back in time hundreds of years. Starting from Village al Khatim, walking 0130hrs minimum in one way Altitude 1800 meter - 1900m. Distance of K/m
Overnight at Jebel Shams Resort | Meals included: Breakfast & Dinner
---
DAY 05: JEBEL SHAMS - MISFAT AL ABREEN - ALHAMRA - NIZWA
After Breakfast, we are going to visit Misfat Al Abriyeen Oman, and its famous Guesthouse Misfah Old House, have become a great stop when touring the Sultanate. It is considered one of the most beautiful villages in the country. It offers a relaxing break from towns. The village boasts amazing agricultural terraces, beautiful alleys, and old houses built on top of solid rocks.
Then we proceed to Al Hamra this venerable village at the foot of the Hajar Mountains is one of the oldest in Oman, and it is interesting for its wonderfully well-preserved row of two- and three-storey mudbrick houses built in the Yemeni style. There are many abandoned houses in the upper parts of the village, which make for an atmospheric stroll.
Break for lunch at local restaurant
Then we reach Nizwa is an ancient city in the Ad Dakhiliyah region of northern Oman. It sits on a plain characterized by seasonal rivers and palm plantations. It's known for Nizwa Fort, a castle with a huge cylindrical tower built in the 17th century to defend the city's position on a major trade route. The adjoining marketplace, Nizwa Souk, is lined with handicrafts stalls and silversmiths working in small shops.
Overnight at Nizwa| Meals included: Breakfast
---
DAY 06: VISIT JEBEL AKDHAR - 02 HOURS TREKKING - MUSCAT
After breakfast, This Morning drive to Jebel Akhdar. In Arabic, Jebel Akhdar (Green Mountain) may seem something of a misnomer to the first-time visitor. Firstly, Jebel Akhdar refers not to a mountain as such, but to an area that encompasses the great Saiq Plateau, at 2000m above sea level. Secondly, the jebel keeps its fecundity well hidden in a labyrinth of wadis and terraces where the cooler mountain air (temperatures during December to March can drop to -5°C) and greater rainfall (hailstones even) encourage prize pomegranates, apricots and other fruit. With a day or two to explore this 'top of the beanstalk', Jebel Akhdar is famous for its gardens, farms and terrace plantations. Visit Wadi Habib to see one of the remote villages and fruit plantations. Also visit one of the private terrace rose plantations. (Jan - Feb is the season every year).
Break for lunch at local restaurant
Then we will do 02 hours trekking through the villages of Al Akhr, Al ayen and al shareekha.
Picnic lunch & then we back to Muscat
Overnight stay at Muscat | Meals included: Breakfast
---
DAY 07: DEPARTURE MUSCAT
The day is at your own leisure. By evening, We shall transfer you to Muscat International Airport before 03 hours of your international flight departure.
Meals included: Breakfast
Quick Facts about this Tour
W6 Trekking details
Start: Village Al Khatim

Walking time: 1 hr 15 min one way

Altitude: 1800 metre to 1900m

Distance: 4 km, GRADE 1

Base: Jebel Shams Resort on Jebel Shams Plateau
Main Attractions
Day 02

Sultan Qaboos Grand Mosque

Royal Opera House

Bait Al Zubair Museum

Al Alam Palace

Muttrah Souq

Day 03

Nakhl

Wadi Bani Awf

Snake Canyon

Bilad Sayt

Grand Canyon 

Day 04

Trekking to Village al Khatim,

Day 05

Jebel Shams

Misfat Al Abreen

Al Hamra

Nizwa

Day 06

Trekking through the villages of Al Akhr, Al ayen and al shareekha.
RATES: UPON REQUEST
GENERAL TERMS & CONDITIONS
The prices are indicative and all respective services are purely subjected to availability upon final confirmations.
All current accommodation/service taxes have been included while quoting. If there is any unexpected increase in the accommodation rates extended by respective hotels, existing accommodation/service tax structure, hike in the fuel prices or air fare will be charged extra as applicable.
It is recommended that you take necessary travel insurance to cover medical expenses in case of an accident/illness, loss of baggage/personal belongings/air tickets, change of air tickets and cancellation of the tour.
All arrangements made by NTT Tours are in the capacity of an agent only. NTT shall not be liable for any claims or expenses arising from circumstances beyond our control such as accidents, injuries, delayed flights, etc & all acts of force majeure.